TOURS OPERATING NIGHTLY
VISIT INFORMATION
• Only contactless transactions are available at all ticketing, retail and food & beverage outlets – cash not accepted.
• Please maintain physical distancing at all times whilst at any of our locations.
• Please maintain good hand hygiene and stay home if you are unwell.
• Entry only via a pre-purchased ticket (including infants).
• Vouchers are only valid for entry once they are redeemed online.
• Companion card holders are free of charge, but must book their ticket
by phoning 5951 2830.
• Please note that as we will be managing visitor numbers at all of our locations, you may experience short entry delays subject to the number of people already on site.
• Please review our Code of Conduct and Participant Requirements form.
Please check here for the latest requirements prior to your visit.

Tip: Wearing contact lenses instead of spectacles may make the use of night scopes easier for those visitors who have this option.
Reasonable fitness required, including the ability to walk on soft sand, descend and ascend 20 stairs, and walk up to 1.5 km in each direction on uneven surfaces.
Closed walking shoes are mandatory.
Please bring your own gumboots and wet-weather gear if appropriate (must be dark and non-reflective).
Please dress according to the conditions and remember that weather can be changeable in southern Victoria along our coast.
Minimum age 16 years.
Tour duration approximately 2 - 2.5 hours but may be extended subject to penguin arrival times.
Commentary delivered in English only.
Please allow extra travel time if visiting from mid-December to late January, during Long Weekends, School Holidays or other peak periods as traffic can get very busy.
In an unlikely scenario of unusually lower penguin numbers or higher than predicted tides the Ultimate Adventure Tour will be replaced with a Guided Ranger Tour.
Late arrival may result in ticket being forfeited.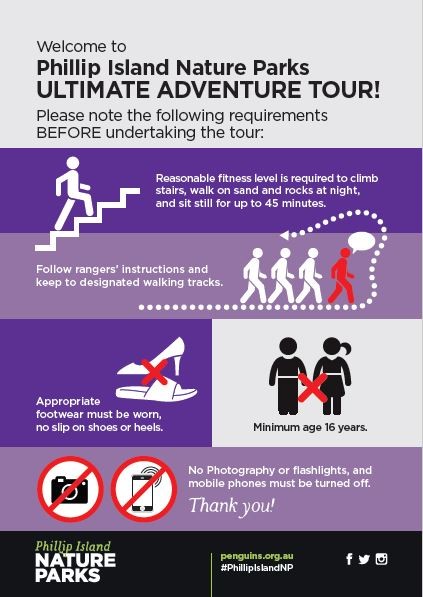 How to get here
By car: Phillip Island is located 90 minutes' drive from Melbourne. Allow a further 20 minutes from the bridge to get to the Penguin Parade. Free car parking on site.
By bus: Public transport is limited on Phillip Island. V-line operates a bus to Phillip Island's main town, Cowes, from Southern Cross Station in Melbourne city.
Please note that the V-line bus does not go to the Penguin Parade and there are no return buses to Melbourne at the conclusion of the Penguin Parade.
By taxi: Contact Phillip Island Taxis on 03 5952 2200 to arrange transfers on Phillip Island.
Tours and Transport: Contact a Visitor Information Centre in Melbourne or on Phillip Island for tours and transport options.