Resources to suit every year level and a diverse range of learners
Enhance your excursion at the Nature Parks with downloadable curriculum linked resources for students and teachers to use before, during and after excursion.
Attraction

Year Level

Resource

Format and Download Link

Penguin Parade

Primary (F-6)

Practical information about an excursion to the Penguin Parade. Student worksheets and biodiversity survey. This activity enables students to collect data in the field during their visit.

Printable survey sheet

BYO clipboards and pencils

Penguin Parade

All Year Levels

Data sample of the nightly penguin count and environmental conditions. This data set can be used in a range of ways with students such as visualisation of data and graph creation.

Penguin Parade

VCE

This resource supports teachers and students to complete VCE, Unit 2 Tourism during an excursion to the Penguin Parade. It includes information about tourism operations, penguins and conservation and data about visitation, visitor segmentation, product design and the history of tourism at the Penguin Parade.
This resource is in four parts:

Part 1 - Phillip Island Nature Parks tourism operations and the Little Penguin

Part 2 - Ecotourism, visitor experience and commercial operations

Part 3 - A history of tourism at the Penguin Parade

Part 4 - Tourist funded conservation

Little Penguin Burrow Camera

All Year Levels

Ever wondered what goes on inside a Little Penguin burrow? View remarkable footage from inside a penguin nest.

Penguin Calendar

All Year Levels

A handy reference for the expected penguin arrival time, as well as seasonal information about what the Little penguins will be doing when your students visit.

Churchill Island Heritage Farm

Primary (F-6)

Can be adapted for secondary year levels.

In this set of cue cards, curriculum linked learning opportunities are mapped across year levels, and to specific locations and objects. This enables teachers to guide students with purpose as they walk around and explore this unique little island.

Churchill Island Heritage Farm

Primary (F-6)

This playful resource compliments a self-guided visit to Churchill Island. Challenge students to look for and find locations and objects to uncover a secret message.

Antarctic Journey

Primary (F-6)

Student activity to activate prior knowledge, and challenge them during exploration in the exhibition. Resources and prompts for a post excursion Antarctic animals and adaptations investigation.

Printable worksheet

BYO clipboards and pencils

Koala Conservation Reserve

Primary 5-6 & Secondary 7-8

Practical information and gentle prompts for students to engage all their senses as they explore the raised koala boardwalks. This resource includes a student led investigation into koala adaptation and conservation management strategies. This worksheet is designed for your students to work in pairs and complete in the field. Teacher answers and contextual information is included, enabling a meaningful post excursion whole class discussion.

Printable worksheet

BYO clipboards and pencils

Nature Notes

All Year Levels

Gain the latest information from our Conservation and Research Teams, discover the biology, features and behaviours of key native species which call Phillip Island (Millowl) home.

Nature Parks YouTube

All Year Levels

Interviews with Educators, Rangers and Conservation Scientists! Discover a range of videos to support student learning about wildlife and conservation.

A Rangers Guide to the Rocky Shores of Phillip Island

All Year Levels

If you have always wondered about life and the amazing community ecology of our rocky shoreline, download this illustrated guide.

Nature Parks SketchFab

All Year Levels

Access interactive 3D models of a Little Penguin, Koala and Australian Fur Seal. Each model is annotated with information about biological and structural adaptations.

Seal Spotter - Citizen Science Project

All Year Levels

Join our rangers, researchers and global community as we work together to identify population status and entanglments through the SealSpotter portal.

Seal Secrets

Recommended for years 3 - 6

What makes a seal swim? This easy to use resource prompts students to explore the world of our Australian fur seals through a variety of media. Students explore how seals' features make them particularly suited to their environment and how human activities are impacting their ability to survive.

Design For Nature

All Year Levels

Climate change is predicted to make Phillip Island hotter and drier, so Nature Parks in collaboration with La Trobe University, is testing 50 artificial burrows, in five different designs, to better protect penguins during extreme hot weather. How would you design a penguin burrow to protect our little feathered friends? Explore the challenges little penguins face in a changing climate, the concepts of passive design, and create a little penguin burrow that can extend the deadline on saving this iconic animal.
We value your thoughts as we strive to improve school excursions at the Nature Parks, please leave your feedback here.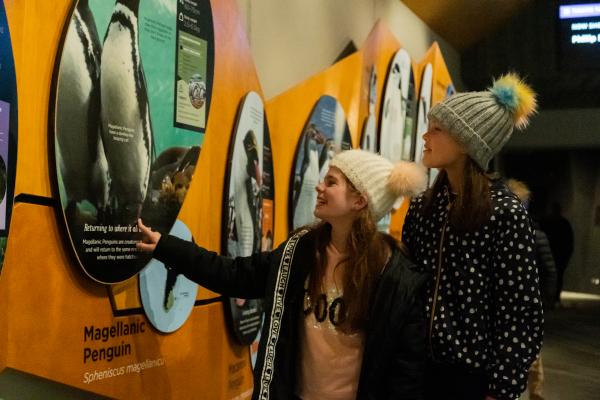 Students exploring the Penguin Parade Visitor Centre